Yekea Home Appliances Co., Ltd.
Yekea Home Appliances Co., Ltd, founded in 2009, specialized in seasonal items-- cooling items for winter, heating items for winter, which make you refreshing in summer, warm in winter. The main products including: Fan, cooling mat, hotpack, rechargeable heating bag, electronic hand warmer, microwaveable toy etc. Currently, we have expanded our product range, like commodity and TV products.
Strictly adhering to national and international quality standards, with exquisite design, perfect craftsmanship and providing excellent customer service, our products have gained a strong reputation among our customers. As a result, our products are exported to America, South America, Europe, Africa, South East and some other countries and areas.
Our mission is not only to provide high quality and affordable items to the end users, but also create quality and comfortable life for customers. Our aim is to make 100% satisfaction for clients. We always regard customers¡¯ profit as the most important point. We pay special attention to product quality and timely delivery.
Credit is the consistent management principle of our company. With all sincerity, we hope we can build mutual benefit co- operational partners base of your support and create a bright future together.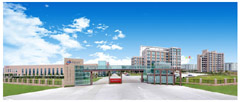 Company Office